Introduction – Getting to the accommodation.
Once we crossed the Cook Strait to begin exploring New Zealand's wonderful North Island we were holiday focused. We debarked the ferry in Wellington and were headed North. On the way we included a visit to relatives, seeing the birth place of a parent while keeping the car and caravan pointing north. Four days we had, to get to accommodation we'd booked 6 months out. We pushed ourselves to get there and made it with hours to spare. Previously unseen parts of the country became physically recognizable as we covered new ground. We were making new discoveries, finding places speaking to us saying, "How would it be if you came and lived here?" Yes we probably could have, but we agreed that we liked being close to family.
So focused were we in getting to the accommodation it wasn't 'til we arrived and relaxed that I began to see that as well as being a holiday there were pearls I learned along the way. Rather than a static holiday (staying in one place and relaxing by the beach or by the pool) – this was a dynamic holiday (leaving a base and travelling to interesting and important places, seeing beautiful sights, relaxing for some idyllic moments when we got there and then returning to base). We went out for a feast and then back to camp to digest it.
Here's a few of the ideas that came to me around learning as the holiday progressed.
When you're exploring New Zealand's wonderful North Island there's something better waiting around the corner!

We'd left our accommodation for the day and were driving to a place we thought would be open for coffee, only to find it wasn't open. Google doesn't always have the last word. We back tracked a little and took a side road revealing an idyllic spot – Houhora Heads. Our timing was also exquisite as the restaurant there was usually only open Tuesday to Sunday. This was Monday morning and during the peak season they open for lunch to service tourist buses to Cape Reinga – the northernmost point when exploring New Zealand's North Island. We'd arrived at the perfect time to take advantage of this and got our coffee and an early lunch.
There's a Pot of Gold at the end of the Rainbow.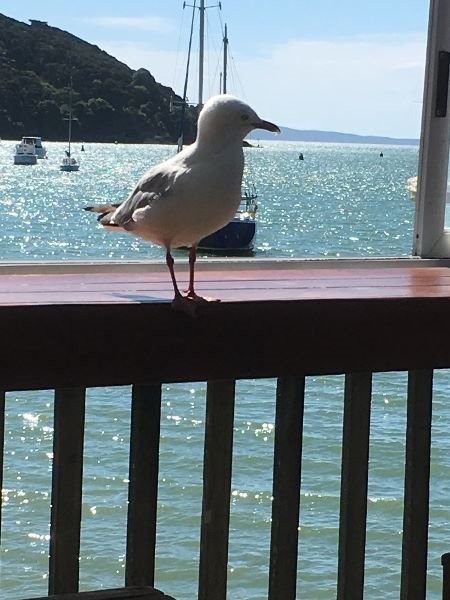 Rainbow's manifest in the presence of rain. I'd taken a turn to a place that I'd visited before. The 13 kilometres that the road sign indicated seemed to be 20km and with roadworks, it was taking even longer. Inside the car, things were a bit misty I could feel tension from the passenger seat when we stopped at one town and couldn't find anywhere for a coffee and some lunch. We kept going. Drinks and a meal at different places were elusive. Eventually, we arrived at the World Famous Mangonui Fish & Chip Shop. Once we'd ordered and were seated, we found the Pot of Gold. There's something quite magical about sitting in a restaurant on a wharf watching the sun flickering on the water, boats in the harbour, seagulls making eyes at you, water lapping beneath you and enjoying the fruits of the sea.
Moving on.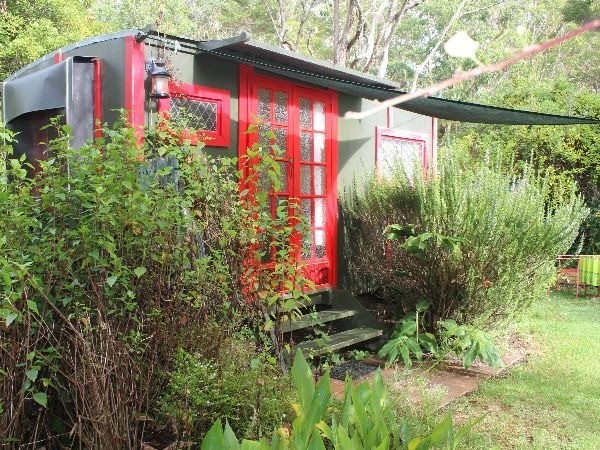 I honoured my partner's feeling that we needed to move on early from our Airbnb. We'd had a delightful stay and for her, it felt like it was over. A woman's intuition is a precious gift.
We left the following day and didn't really know where we were heading. I'd researched a number of options but somehow none seemed appropriate. So, I followed a hunch. When in the far north previously, exploring New Zealand's North Island I visited the Stone Store – one of the oldest buildings in New Zealand. I felt this was a worthwhile place to start.
Being in the Moment when you're exploring New Zealand's wonderful North Island
We found a place to park the caravan and a restaurant, The Pear Tree. It was named after the oldest cultivated fruit tree in New Zealand which still stands outside the restaurant. Once again, a magical setting for lunch and the best poached eggs ever, without a doubt. While sitting there in awe of the scenery and waiting to be served I researched possibilities for a place to stay.
What came up in the general vicinity – as the crow flies – the Pagoda Lodge. We decided to take a look. It was a bit of a mission to get there but after following cues through Kerikeri we eventually got there. We rolled down the drive caravan in tow unsure if there would even be a place to turn it around. Management wasn't there and we were directed to a park. Lucky for us. We had a place to park the caravan and set ourselves up. Management returned and we paid for a night. The following day we paid for another. Same again the next day.
It was enchanting and held us in its thrall for all of that time. Even in the rain. There's nothing like lying in a caravan reading, rain drumming on the roof, no place to go, embracing a feeling of just being.
Nothing is Forever
Yes, we had to move on. It had been a privilege to stay. We'd talked to the owners on a couple of occasions and they told us that by this time next year they would be closing the camp and taking a well-deserved rest. They'd created something special here and
they were tired. The Pagoda Lodge would become a sanctuary for them and their friends and family just as it had been for us.
They're not just toilets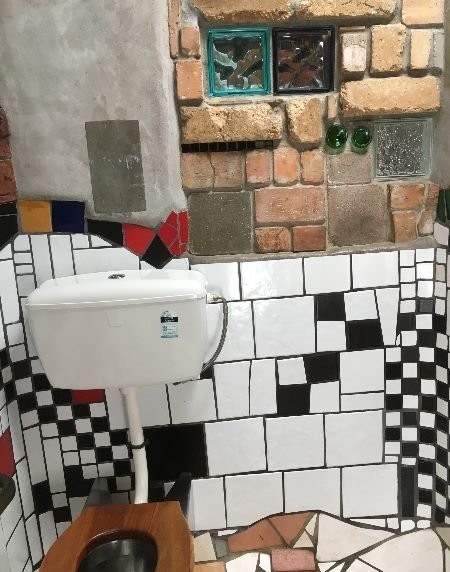 From Kerikeri in the east we headed west. First stop on the way was Kawakawa. We had our sights set on a toilet stop – not just to use the conveniences. In Kawakawa the public toilets were designed by a world-famous architect and designer Frederick Hundertwasser. They raise what is usually a purely functional experience to something almost sublime. This can only be good as it has created a building which is obviously loved and cared for. Imagine if other public conveniences were created with attention to unique design and which evoke an attention to sacred care.
The other interesting aspect of Kawakawa is on Friday and the weekends when a vintage train runs through the centre of the town.
From there we headed to Opononi.
It's not just a tree.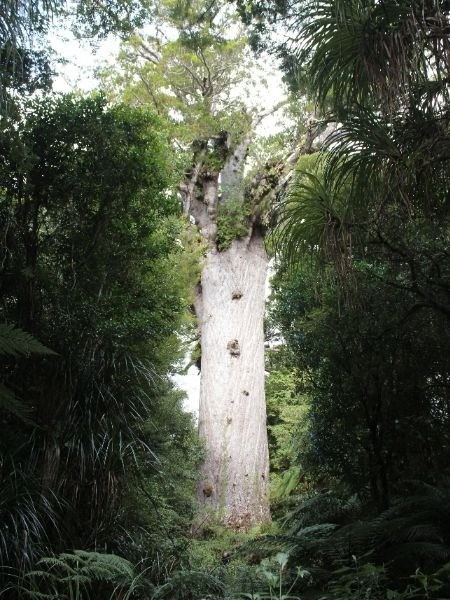 We'd come to see a tree. When exploring New Zealand's North Island it's a good idea to visit the local information centre. They suggested driving out there and returning that afternoon. We left the caravan at the Motor Camp and headed further west. It's a bit of a drive but well worth it. Tane Mahuta can't be seen from the road. When you get there, you're required to disinfect your footwear on the way in. There is a short boardwalk to the viewing area. If there are no distractions there is a palpable sense of the sacred as you behold this forest giant. It is over 2000 years old and has what I can only describe as presence. It touches the soul place within. There is an energy emanating from it if one can be still enough to experience it. It's not just a tree!
Tane Mahuta stands not far from Hokianga Harbour (where as legend would have it Aoteroa (New Zealand) was first peopled by settlers from Polynesia. It is still sparsely populated and has a rugged, ethereal beauty.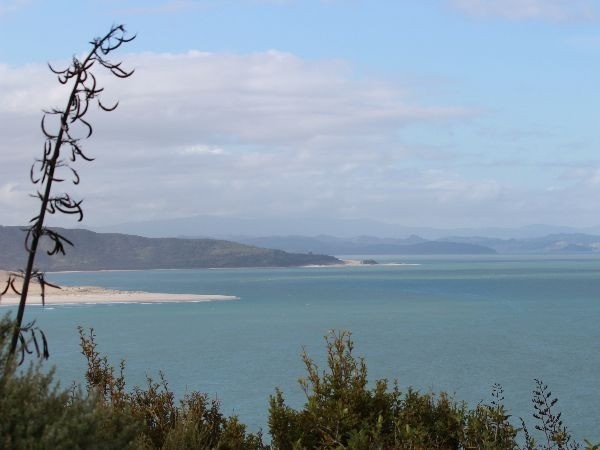 Every cloud has a silver lining.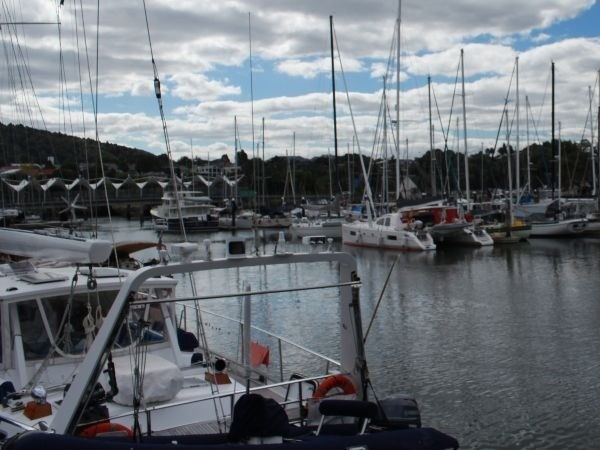 From the beginning of our journey we'd had difficulty with our brake lights on the caravan. Yet again it was dogging our path. Another visit to an auto-electrician. And once more made a choice to stay put for a night. This time, Whangarei. Another revelation. A visit to the biggest second-hand bookshop north of Auckland. We'd visited other second-hand bookshops that had been good sources of reading material. Somehow more was less – I only found one book that grabbed my attention instead of the two or three in previous bookshops.
Anyway, it was the marina that provided the enchantment. Just a short walk from the city centre – multiple cafes, restaurants and craft shops – one where you could watch a glass blower at work. In the marina itself a group of guitarists seemed to be having a lesson. It had a life of its own. Wonderful.
When you hit a barrier, get around it and keep going.
Leaving Whangarei we knew it was going to be a big day to get through Auckland and find somewhere to stay at a reasonable hour. And it grew as soon as we hit roadworks a quarter of an hour into the journey. We made some good time once we cleared the roadworks and took a different route through Auckland using the North Western Motorway instead of going through the North Shore and the CDB.
A late lunch (2.30pm) in a cafe at the turn off to Waihi & Tauranga – thankfully still open. Further north we had encountered cafes already closing around this time.
We kept moving southward and about 4.00pm decided to find some lodgings for the night. None of the camping grounds were inspiring and a visit to the i-site (local information) in Matamata (home to Hobbiton) came up with a no to accommodation in the town. We'd hit a barrier.
There were a couple of other townships reasonably close but a phone call soon put paid to any hope we'd get anything. It seemed like we were going round in circles.
The only option was to press onward to Rotorua. We'd researched options earlier and flagged a couple of camping grounds. The first one we visited was full. The second Willowhaven still had sites. We grabbed one. This was the following morning. We received such beauty while exploring New Zealand's North Island.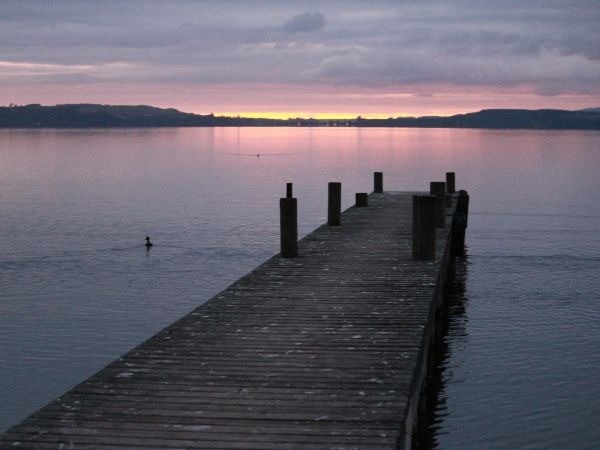 It's all downhill from here.
Rotorua is at the border of the central plateau. From there we drove to Taupo, lunch, and then to Napier in the Hawkes Bay. The road was long and winding and mostly downhill to the coast arriving at the Art Deco Capital of New Zealand, Napier late afternoon. Napier township was mostly destroyed by an earthquake in 1931 at the height of the Art Deco era. Hence most of the buildings have that aura about them.
A visit to the cemetery, and to reminisce at an old neighbourhood, thwarted again with accommodation, we returned to Eskdale to a motorcamp there for the night. In the future I'd check the events calendars in cities or towns I was visiting to see what's happening while I'm holidaying. Wouldn't you know it, Horse of the Year was on in Napier when we got there.
Why – it's all downhill from here? In some circles it might mean that things are going wrong and certainly we felt challenged by accommodation again. For others it means the hard yards have been put in and because of that the road now is as if we're coasting downhill with ease. For us it was definitely the latter. The holiday was winding down to a pleasant conclusion.
Showing up
Getting to Greytown the following afternoon and finding somewhere to stay was a great lesson in just showing up. The road from Napier meanders south through the inland Hawkes Bay and then seamlessly enters the Wairarapa. Driving through, it seems that time stopped about 20 years ago. We were drifting down the river of yesterday. Cars, trucks & fashion, have all moved with the times, while it seems the architecture has been frozen back as it was in the 70s and 80s.
We were headed to Greytown. What were once just names on maps – Norsewood, Dannevirke, Pahiatua, Eketahuna, Woodville, Masterton, Carterton now become glimpsed faces as we get closer to our destination. Short stops along way break the journey and then we're there.
A browse on the smartphone brings up a number of places to stay. We drive around looking at prices and looking at the places. Does it meet the budget for comfort on our last night exploring New Zealand's North Island? Eventually we get tired of driving around in circles and I make the decision to just walk into a motel. Expecting to pay what I thought a mildly exorbitant price I am pleasantly surprised when they mention a price well below that found on-line. We take it.Yes it pays to take a direct route to what you want and just show up.
Homeward Bound
The next day it's a short drive to Featherston – the gateway to the Rimutakas. The road is a bush-robed, winding, hill hugging, green-clad threshold to business as usual. To the suburbs. As we came down the other side we were being sucked back into city life, to the busyness and to the ferry that awaited us in Wellington Harbour for our journey to Picton, the South Island, and home.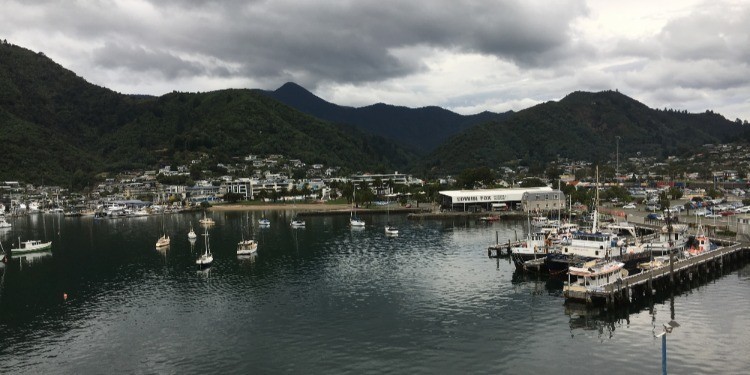 Restaurants & Cafes
https://www.quarteracrecafe.co.nz/
http://www.casablancacafenz.co.nz/
https://www.landingthaicafe.co.nz/
https://caffiendpetone.business.site/
https://m.facebook.com/Fat-Camel-Israeli-Cafe-111529865551331
http://www.mangonuifishshop.com/
Accommodation
https://www.holidayparks.co.nz/taranaki/hawera-holiday-park
https://kiwiholidaypark.co.nz/
https://www.continentalmotel.co.nz/
http://www.willowhaven.co.nz/index.html
https://www.eskdaleholidaypark.co.nz/